---
5m Storage Container Wooden Floor with Double Door on End
Product description
Description

The 5m long Flat Pack Containers from Kovobel UK are fully constructed from galvanised steel. Corrosion resistance and strong build quality from a company dedicated to unfaltering service. 

Using exterior supports, Kovobel Containers save on interior space and provide clean flat walls for shelving, cabinets and desks. 

Unlike a shipping containers, the Kovobel QuickStore is designed for long term storage.? With natural ventilation to ensure no condensation build-up, your stored items will not suffer from damp.? This keeps your possessions dry, safe, and mould free.?

 Read a comparison here between Kovobel storage containers Versus a shipping container. 

Our 35mm thick wooden plank floor will not rot and absorb water like cheaper chipboard or OSB sandwich board. 

With a whole wave of additional extras available to customise your container, there is a configuration for everyone. Windows, Doors, Shelves & Integral Bunds are just a small portion of the options available. 

All these add ons make it possible to build a site office, plant room or other functional, protective cabin. Plus you can then pack up and fold it away, transport your container to a different site, and place your QuickStore container ready for the next project. Collapsible Containers offer a flexibility that other storage containers just can?t compete with.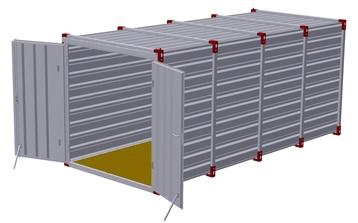 Recommend this product to a friend
5m Storage Container Wooden Floor with Double Door on End