---
Product
Product ID
2800mm  x 500mm Bunded Shelf
024230
2005mm x 500mm Bunded Shelf
024240
Shelf Bracket
019270
Back Wall Upright
Side Wall Upright
031670
019280
Kovobel Container Shelving System
Product description
Description

The Kovobel Shelf system allows for simple heavy-duty shelving to be installed in an Kovobel existing container.

The shelving is made up of 3 components. The upright support, the shelf bracket and the shelf.

Bunded Shelf

Our shelves are available in 2 lengths, 2005mm for back walls and side walls and 2800mm for side walls only. Both these steel shelves are manufactured to include spill containment. This is also known as a bund. Ideal for storing liquids that could cause problems if they leak out. Each shelf is 500mm deep.

We also have clients that do not require bunded steel shelves. It is very simple to provide your own shelf planks, 500mm wide and as long as required to fit your own unique requirements.  Just order the uprights and shelf brackets.

Due to the profile of the side wall differing from the back wall, 2 different uprights are available. Back wall or Side Wall.

Shelf Uprights

The upright supports hold the shelf brackets. For the 2005mm shelf, we recommend 2 uprights. For the 2800mm shelf, we recommend three uprights. Each set of uprights can support three shelves.

Shelf Brackets

The 2005mm shelf requires two brackets, and the 2800mm shelf requires three brackets.

Please contact us with your requirements; we are happy to provide a quotation.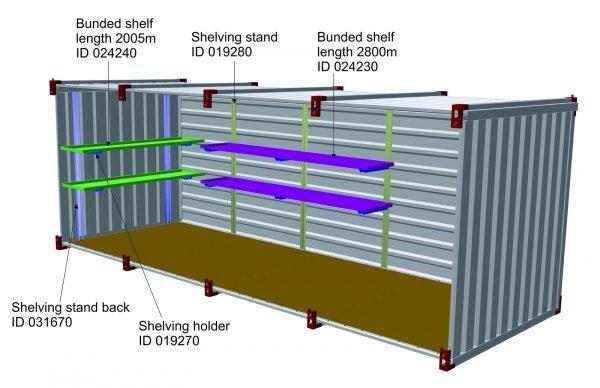 Recommend this product to a friend
Kovobel Container Shelving System