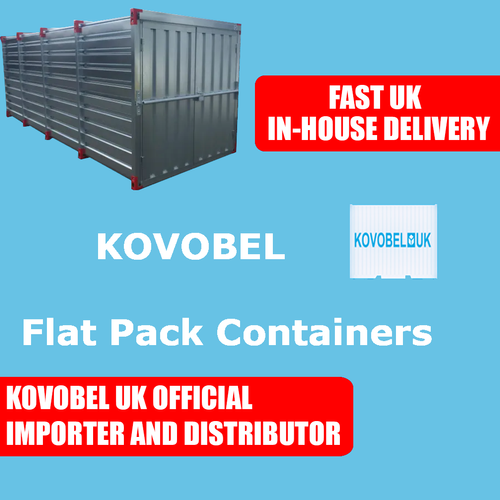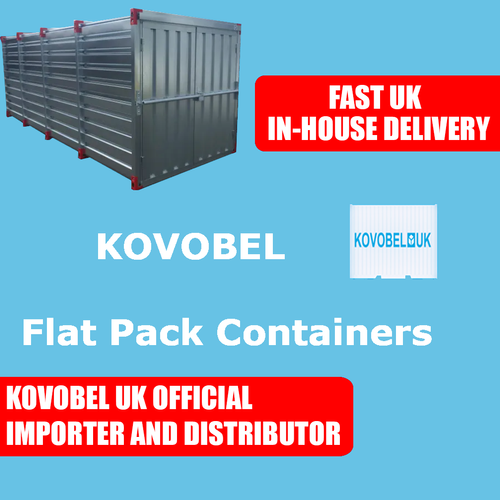 FLAT PACK CONTAINERS
Kovobel flat pack containers have proven themselves in the international self-storage market for over 20 years. Innovative engineering and galvanised finishing make our containers strong and long-lasting, while providing the best and most efficient self-storage solution. Available from 1m up to 6m in length, you can even join them together for increased length. There is no need to have a rusty shipping container when we have high-quality flat pack containers for sale.
We offer THE ORIGINAL flat pack storage container
Loading...
Kovobel flat pack container - best alternative to a shipping container
Our flat pack containers offer many advantages over shipping containers. They are easy to assemble and disassemble when not in use or at times when you need to relocate the flat pack container. Each of the 6 panels can be carried or manhandled to the final assembly location, so access is simple. The assembled storage container can be lifted by a forklift or crane, making site relocation a breeze.
The Kovobel container is designed to be fully weather-resistant with natural ventilation. Unlike a standard shipping container, condensation is not an issue. This keeps all your stored possessions dry and protected from the elements.
Our heavy-duty container floor is constructed from a galvanised steel frame over 35mm thick wooden tongue & groove planks for long life. Kovobel has never used a cheaper OSB or chipboard. This makes our container floor stronger than any other flat pack floor. Strong enough to drive a car in!
Our flat pack containers are made of high-quality galvanised steel. Our smallest flat pack containers come in at (L) 1m x (W) 1.2m x (H) 2.2m, and our largest standard storage container is (L) 6m x (W) 2.2m x (H) 2.6m.M
Flat pack container delivery
We deliver our flat pack containers with our own crane-assisted vehicle and may provide off-loading services when we deliver your container. This delivery service is limited to the range of our tachograph driving hours; therefore please contact us with your address for a delivery quote.
Kovobel UK keeps a container supply in our yard for quick delivery. We also carry related parts and accessories, and we will gladly supply you with a price at the time of purchasing; call us at 01722 548300 for any help.
A forklift, particularly with long prongs for unloading, will be required for third-party delivery of Kovobel containers. If you have unloading facilities, this might be a cost-effective delivery service.