Shipping Containers - A Quick Guide
A shipping container is a large steel box used for the sea, land or air transportation of products. Most container ships, lorries, and trains can accommodate shipping containers because to their design.
The 20-foot (6-meter) and 40-foot (12-meter) containers we provide are the most popular sizes. There are many different sizes for shipping containers. The majority of containers include corrugated steel walls, a strong steel frame, and doors at one or both ends that may be secured for security. Storage containers can be piled on top of one another to maximise the capacity on trucks, trains, and ships.
The following are some possible uses for shipping containers:
Moving objects across borders
Storing items at warehouses and ports
Erecting most sorts of structures
Even in crisis areas, shipping containers have been utilised as temporary shelters and as emergency housing. Our flat pack containers are perfect for this because of how easily you can transfer them and put them together.
What are the Common Shipping Container Sizes?
The dimensions of shipping containers are frequently 20 feet, 40 feet, and 45 feet. The most commonly used sizes are the 20-foot and 40-foot containers.
Usually measuring 8 feet wide by 20 feet long by 8 feet 6 inches high, a 20-foot shipping container has a volume of around 1,170 cubic feet. Depending on their size, it may store 10 to 11 regular pallets.
The dimensions of a typical 40-foot shipping container are around 40 feet long, 8 feet wide, and 8 feet 6 inches high, with a volume of approximately 2,390 cubic feet. Depending on their size, it can carry 20 to 21 conventional pallets.
In addition to the standard sizes, there are also high cube containers, which are one foot taller than the standard containers, smaller and larger containers are also available for specialised purposes.

Can Shipping Containers be Customised?
Yes, shipping containers can be customised in order for them to be used in a variety of purposes. Shipping containers are inherently strong, durable and weather resistant, making them suitable for various customisation options.
Some common options include:
Adding doors
Windows
Insulation
Electrical and Plumbing Systems
Ventilation Systems
Partitions
and shelving
Are Shipping Containers Waterproof?
Yes, shipping containers are designed to be waterproof. Kovobel shipping containers are made of galvanised steel with corrugated walls and a welded steel frame. The walls and roof are also coated with a layer of rust-resistant paint to make sure your storage container is provided with further protection from the elements. Kovobel flat pack containers are made to last!
Our shipping container doors are fitted with rubber seals to prevent any water from entering through the gaps. The container floor is typically made of marine-grade plywood, which is treated as water-resistant.
How Much Weight Can a Shipping Container Hold?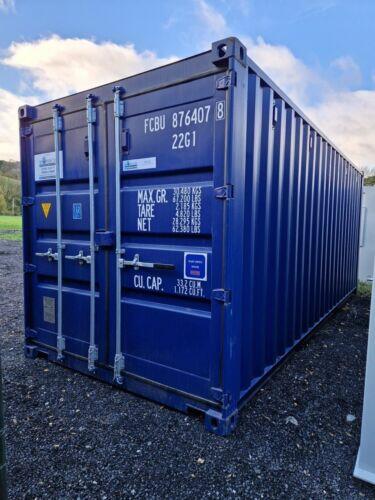 A shipping container's weight depends on its size and the weight distribution of the cargo inside. Here are some approximate weight limits for standard shipping containers:
A standard 20-foot container can hold up to 10,886 kg of cargo, assuming a maximum payload of 30,391 kg
A standard 40-foot container can hold up to 19,958 kg of cargo, assuming a maximum payload of 29,937 kg
It is crucial to remember that the weight restriction for a shipping container is dependent on a number of elements, including its size, the weight-bearing capacity of the transport vehicle, and other restrictions that may be in place.
How are Shipping Containers Transported?
There are three ways to move shipping containers: by boat, by truck, or by rail.
Shipping containers are often loaded using cranes at ports onto cargo ships for maritime travel. They are secured to the ship and stacked on top of one another to prevent movement while being carried. Once the ship reaches its location, the containers are unloaded using the same type of crane.
Shipping containers are loaded onto specialist container vehicles, usually referred to as trailers, when being transported by truck. A crane or specialist lifting tool like a reach stacker, or side loader are used to raise the container onto the vehicle. To keep it from shifting while in transportation, the container is next twist-locked to the vehicle.
Shipping containers are placed onto flatbed railcars or intermodal trains for railway transportation. They are fastened to the train and stacked on top of one another.
How Long Can Shipping Containers Last?
Galvanised steel is used to make shipping containers like ours, and other elements, like the container's quality, storage location, and maintenance practises, can affect how long they last. Our containers can survive even longer due to their galvanised construction!
The lifespan of a shipping container is typically between five and twenty-five years. With the right upkeep and care, certain containers can live much longer. The average lifespan of a shipping container is up to 30 years or more.
Exposure to seawater or other harsh conditions, damage from accidents or incorrect handling, and the standard of the original construction are all aspects that might shorten a shipping container's lifespan.
It's also important to keep in mind that once they have outlived their usefulness for transporting, shipping containers can be put to a number of other applications.