Chemical Storage Regulations Guide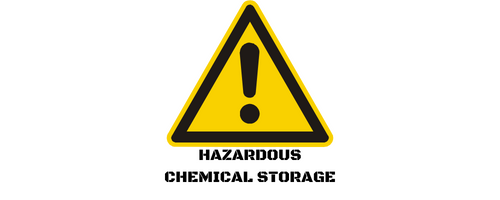 Chemical storage regulations exist to keep people and the environment safe. This is an important issue in the UK, as chemicals can be dangerous if not stored properly. Proper storage can help prevent accidents and protect the environment. In this article, we will discuss the safe storage of chemicals in the UK, including the use of storage containers, fire risks, and bunded containers. We will also explore the regulations and guidelines that are in place in the UK to protect those working around chemicals and the wider environment and ensure safe and compliant chemical storage.
COSHH means Control of Substances Hazardous to Health
The word 'Chemical' covers various products and substances, but let's focus on chemicals that can cause harm. These hazardous substances need to be handled and stored within the COSHH regulations. Chemical storage regulations is a broad term that includes the COSHH regulation and CHIP - Chemicals (Hazard Information and Packaging for Supply) Regulations 2002. You will also need to consider COMAH, which stands for Control of Major Accident Hazards Regulations.
Drums, Intermediate Bulk Containers, and tanks are just some of the type of container options which can be used to store hazardous chemicals. Each type of storage option mentioned will have their own plus points as well as drawbacks. Which container is suitable for you is very much going to come down to the type of substance to be stored and how it is to be transported.
Bund or Secondary Containment
Whenever you store over 200L of hazardous liquids, such as chemicals, oils and fuels, you must use a bund or secondary containment to prevent spills and leaks from entering the environment.
The most typical container used to store chemicals is a drum. They come in a variety of sizes, are reasonably priced, and are simple to handle. However, they are inadequate for holding significant quantities of chemicals because to their small capacity. Drums are typically single-skin construction and require a bund or containment for safe storage.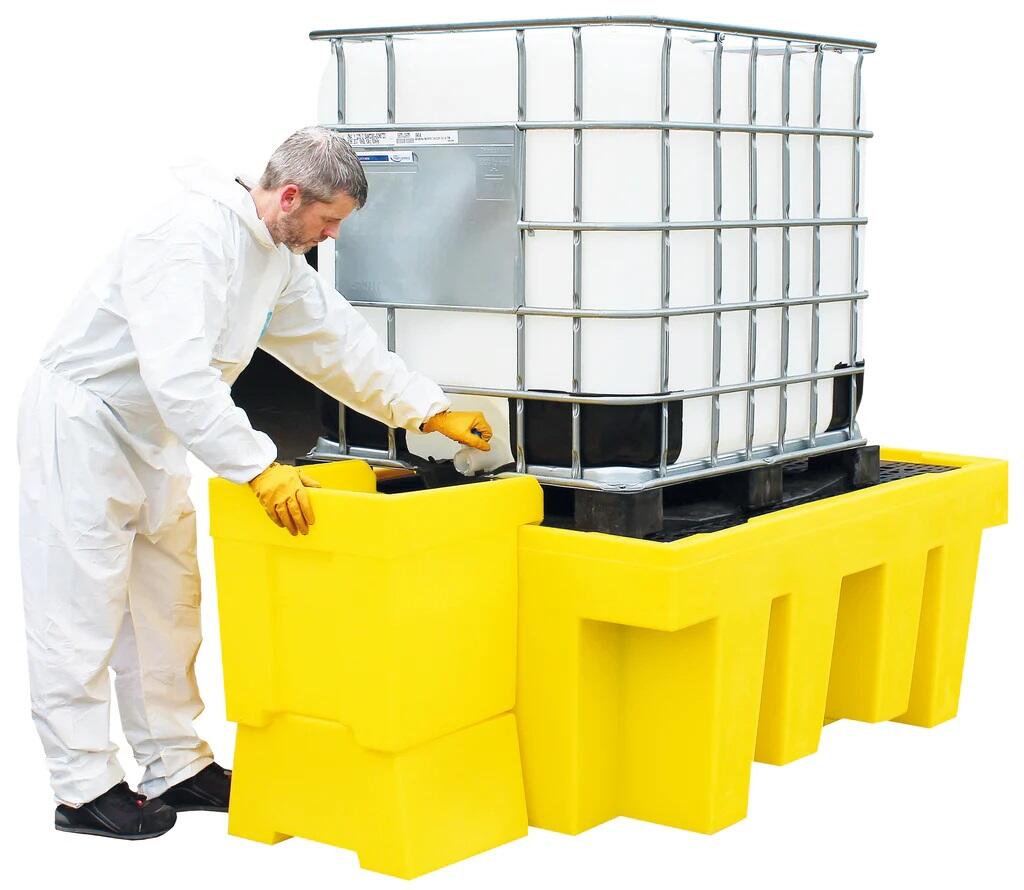 IBC Chemical storage tank on an IBC Bund
IBC tanks are a more recent development in chemical storage. They are large, reusable containers that may be utilised again. They come in different sizes and work well for holding big amounts of chemicals. IBCs are also easy to handle with a forklift pallet base and UN Approved for transport, making them a popular choice for liquid chemical storage. Most IBC tanks are single-skin, like drums, and will require a bund or leak-proof contained area for environmentally safe storage.
Tanks are another option for chemical storage. They are typically made of plastic or metal and are available in various sizes. They are suitable for static storing large quantities of liquid and powder chemicals and are often used in industrial settings. Both plastic and steel tanks are available with integral bunds making them environmentally safe and protected from spills escaping into the environment.
Flammable Chemicals
Storing chemicals of a flammable nature needs to be well considered. It is best to use a secure area, and one which well-ventilated and away from any heat or other ignition sources. They should be away from direct sunlight and any water sources.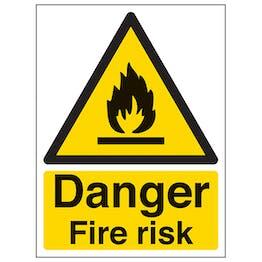 Fire risks are another important factor to consider when storing chemicals. Chemicals and substances of that nature are extremely combustible, with the potential for fires to break out, which can have catastrophic effects. Keep all chemicals away from ignition and flame sources. Ensure proper fire safety equipment is easily accessible and that a fire escape plan is in place in the event of an emergency evacuation.
Bunded containers are an important safety feature for chemical storage. A bunded container is a container that is surrounded by a secondary containment area. This secondary containment area is designed to catch any chemical spills or leaks that may occur. Bunded containers are required for storing certain chemicals, providing an extra layer of protection against accidents and spills.
Safeguarding chemical storage and protecting the environment is a requirement of UK Law which has been set out in the Control of Substances Hazardous to Health (COSHH) rules. All employees should properly evaluate the risks attributed with handling and storing chemicals of a hazardous nature, putting in to place relevant safety precautions. These precautions must be with a view to protecting the wellbeing of other workers and the environment. Your employers are required to take all necessary steps to avoid pollution and safeguard the environment by the Environmental Protection Act of 1990.
The Health and Safety Executive (HSE) states that businesses are required to abide with certain regulations. They are able to conduct business inspections and impose penalties or other consequences for noncompliance.
Chemical Storage Checklist
Here's a quick checklist to keep your hazardous chemicals safe.
Consult the chemical manufacturers' Materials Safety Data Sheet (MSDS) for specific handling requirements.
Storing over 200L of liquid in total will require a bund or secondary containment. For example, bund pallet, drip tray, bunded flooring or other spill containment.
The bund volume should be 110% of the total volume stored. For multiple drums, 110% of the largest drum or 25% of the total. Whichever is greater.
Store chemicals in a ventilated area away from potential sources of ignition.
Flammable chemicals should be stored in a fire-resistant lockable container or cabinet with ventilation and correct warning signs.
A t Risk Assessments should be in place and available to read for every person handling the chemicals.
In conclusion, chemical storage regulations are part of UK Law. Correct storage will help prevent accidents and protect the environment. When storing chemicals, it's crucial to take into account the kind of container, the placement of the storage space, the usage of bunds, and the use of chemical storage cabinets. Businesses must follow by the various regulations in the UK that were put in place to protect chemical storage and protect the environment. Following these guidelines can help you keep chemicals safe and secure while safeguarding the environment, your team, and the general public.
Please see our range of chemical storage containers which are designed and manufactured to meet these regulations with bunded floors and shelving, additional ventilation and fire-resistant construction to comply with COSHH regulations and chemical storage best practices.