What are Kovobel Containers made of?
Kovobel container walls
Kovobel flat-pack storage containers are all made from hot-dipped, galvanised steel and come in five different sizes. Each one of the panels (walls and roof) is made from corrugated, galvanised steel sheets. These are riveted and connected to a set of heavy-duty, galvanised steel support bars.
Kovobel container floor
The floor of a Kovobel container can vary depending on the type of storage solution required. In standard containers, the floor is made of wooden planked flooring that is 35mm thick and has a tongue and groove system. This is bolted to heavy-duty, galvanised steel support bars that are 2mm thick.
Kovobel containers designed for hazardous chemical storage are made from bunded, hot-dipped, galvanised, leak-proof bunded floor and grating for extra safety and protection. Materials, goods, or substances with no special storage regulations can be stored in these types of Kovobel containers.
Kovobel container door
Kovobel secure storage container doors can be single- or double-winged. Both types of doors are made of a heavy-duty galvanised steel sandwich and come with a lever handle and door stoppers on the side. They also come with a lock with three keys.

Doors are riveted to the steel supports, with frames made of galvanised steel and additional galvanised steel supports. Doorstops are 400mm long and spring-loaded for simple use.

Once opened for full access, double doors open up to 1930mm wide x 1930mm height, while single doors open up to 970mm x 1930mm.
Kovobel container angles
Kovobel containers get their strength and superior rigidity from the reinforced corner profiles. Every Kovobel storage container is delivered with multiple corner angles made of robust galvanised steel and painted red. These corner angles are used as joinery points between the floor, sidewall, and roof panels to simplify transportation and assembly. In fact, the outside corner angles come with pegs for ease of stacking during transport, while the holes within the corner angles enable Kovobel containers to be handled by crane.
Container accessories
Kovobel storage containers can be tailored and customised for your specific needs. Depending on your requirements, Kovobel UK can supply you with accessories that help make your Kovobel container work for you to be the best, most efficient, and most secure storage solution.
The following customisable options are available for your Kovobel steel container:
Shelving: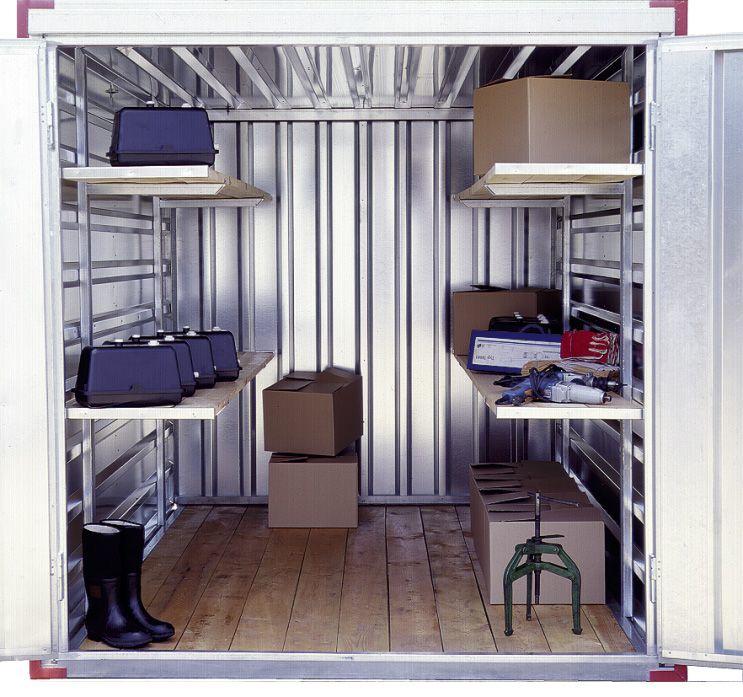 Made out of galvanised steel and 2mm thick, shelves can be fitted to shelving stands via a shelving holder inside your storage container. The maximum stand for one shelving holder is 30kg, while the maximum weight for a shelving stand is 120kg. Bunded shelves are also available and made from 1mm thick galvanised steel.
Roof Stiffening:
The allowed roof load of a standard Kovobel container roof is 1.0 kN/m2. In cases where the container will be used in areas with a higher amount of snow, roof stiffening can be fitted. This increases the allowed load by up to 3.0 kN/m2. The stiffeners are U-profiled and made out of 3mm-thick galvanised steel. They are connected using 4mm-thick galvanised steel corner parts with M 12 x 30mm bolts.
Skylight: A skylight polycarbonate corrugated panel can be installed on the roof to let daylight into the Kovobel container. The panel is compatible with the corrugated galvanised steel of the rest of the roof.
Connection Kits:
When a storage solution larger than 6m (the size of the largest Kovobel container) is required, multiple containers can be connected, end to end, to form a larger storage area. The connecting parts in a connection kit are made of 1mm-thick galvanised steel with pre-drilled holes for easier connection.
Air Grilles:
If more ventilation is needed, such as when storing chemical materials, Kovobel containers can be equipped with air grilles in the side walls. Each air grille is made from 1mm thick galvanised steel and contains 20 vent holes for a total surface area of 55 cm2.
Fork Guides: If the Kovobel container needs to be moved using a forklift, fork guides can be installed for added safety and ease. These are installed at the bottom of the Kovobel container to add length to the forks, guide the forklift, and protect the container from damage. Kovobel fork guides are made of 2mm-thick galvanised steel.
Vandal Bar:
For increased security and better protection for your stored items, a vandal bar can be installed on your Kovobel container's door, whether it is single- or double-winged. Each container comes with holes covered with caps that allow for the fitting of the vandal bar brackets.
Single Sheet Door:
A single sheer door, equipped with a door handle, lock, and prevention against buckling, can be fitted on the container's sidewall. The door is made of 0.75mm thick corrugated galvanised steel and is riveted to steel supports made out of 1mm galvanised steel.
Hinges attach the door to the frame, constructed of 2mm-thick, robust galvanised steel supports.
Wire Mesh Door: Wire mesh doors can be installed in your Kovobel container instead of the standard container door, whether single or double-winged. The wire mesh door wing frames are made of hollow steel, with the wire mesh made of 2.8-mm-diameter wire. The mesh is 40 x 40mm and is welded to the frame. Wire mesh doors are hot-dip galvanised and are fitted with a pull-draw lever, door handle, and lock. For further security, the pull-draw lever is fastened with a padlock bar lock.
Door Stopper:
Each door wing can be fitted with a folding door stopper, 400mm long, which allows the door wing to be fixed in an open position.
Window: A window can be fitted into the side or back wall of a Kovobel container. Window frames are made of aluminium profiles with clear plastic window panels. Each window panel is divided into 2 parts: one part is fixed in a shut position and secured against the opening, while the other part is movable and allows for opening and closing. Windows can also be equipped with shutters fixed in the best position that meets your requirements.
Drive-in Ramp:
A 3mm-thick, hot-dipped galvanised, anti-slip steel ramp can be installed to facilitate vehicles driving into your Kovobel carport container. Ramps are 85mm in length, 1000mm in width, 65mm in height, and 29kg.
Gas cylinders Holders:
2mm-thick galvanised steel holders can be installed in your Kovobel container to store gas cylinders. Each holder is fitted against a standback and allows two gas cylinders to be held in place and secured with a chain, preventing them from falling over.